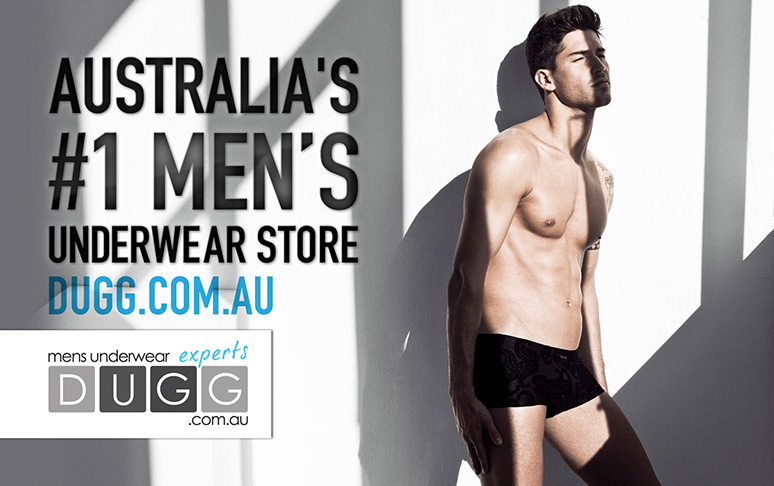 Different uses: Men are now blessed with a choice of underwear for each occasion, there are athletic, casual and designer underwear to take you through the day from work, gym, lounging around the house or stepping out for that special night. They have developed into separate and quite distinct different categories thanks to the different manufacturing techniques, fabric choices and style cuts. The design has evolved to a point where you may use different underwear depending on the occasion at hand, from evening to everyday wear from sporting to fashion. With a more demanding, knowledgeable and educated man looking for the perfect pair of undies to wear, the market has blossomed with choice which has led to some crazy advances on the material, cuts and styles that have been developed. Like most areas of fashion the competition between brands is good for the consumer they have more choice and better prices than any time in the past.
Fabric Choices: Even with the changing fashion designs are the many material choices, we have seen everything from everyday cotton through to soy bean fibre men's underwear, milk fibre and even hemp. We are seeing materials that are more eco-friendly and even those that claim to be carbon neutral, such as the latest Mitch Dowd offerings. These along with the very popular Micro Modal which probably in fact is the softest material we have felt. Transforming the boring dull to the super comfortable plush underwear we are blessed with today. We are blessed with microfiber, rayon, cotton, bamboo and milk fibre, spandex and the list continues there
We have the same basic styles from Boxers, Briefs, Trunks, Jocks and G-Strings, though the main development of men's underwear has been the differences within each style. They feature different length cuts with low rise waistbands, waistbands with clips for easy use, pouches have shelves and straps to hold you in place and jocks have strapping and mesh for protection and to stop chaffing. Joe Snyder even have styles called a jock string which is basically a jockstrap with a string for the strap it is very light and minimal in look and cuts straight over the bottom. Over time the contour pouch and fly design has changed with a well-constructed area for your goods to call home. They use single and double layered material depending on your preference, allowing you to pick men's underwear that is suitable for your occasion or personal taste. The fly has moved from a simple function to one with buttons, separate exits on either side of the groin and even horizontal fly's though we are still trying to work out the benefit to this design other than confusing the user.
There are many types of men's underwear available today; we carry a full range from athletic sports through casual to designer underwear. Many of our members like the full range and selected styles with a unique Australian influence; with an extensive variety we can accommodate the needs of discerning modern tastes. Down Under Guys Gear is expanding its range including sleepwear and lounge wear, socks, T-shirts and singlets.
The casual underwear loved by men all over the world. Boxer Shorts are usually made from cotton or silk, loose fitting with an elastic or gathered waistband. Made famous for their casual street wear look. They were made around 1944 and have proved popular since providing a large amount of leg movement and freedom. English model Nick Kamen sported a pair of white boxers in 1984 Levi's commercial, kick-starting the growth and popularity through the 80's and 90's. Some say the advantages of wearing boxers is unmatched they have the ability to be worn as sleepwear. They are often worn with the pants slightly lower than the pants waistline as a fashion. They are worn by all ages and I think are a favourite for the time you are a kid through to when you are an adult. Some say you wear them for life, or you definitely are a fan for life!
These are great for casual, sports or that night out where you don't want to show your underwear line through a nice pair of trousers. They are also great for sport as the underwear doesn't ride or catch and allows your legs to move freely in all directions. They are made from all materials including silk. Most Brands include some design of thong. HOM is a leader in designer styles and also include what we consider the best sports string available in the market, they also have a style that has set the standard in everyday wear with the HOM Fredy string being the most popular G we have sold over the past decade, the quality of the garment is amazing which our customers swear by. The G string or thong was invented in South Africa the earliest versions were estimated to be worn 75,000 years ago, first invented for men they were adopted and made famous by women in countries such as Brazil as swimwear. Here in Australia we use the term G-string where most of the world call it a thong, which of course is what we determine as footwear. There is no doubt that it has become a very popular choice of men's underwear and will continue to be so, with each brand constantly expanding their range.
Becoming a hit item in the 90's they have been growing in popularity over the past 10 years. They possible are competing for top sport with normal briefs they are the staple in most men's underwear collections. The staff at DUGG believes that 2xist have the trunk formula down, they include a plush waistband and have legs that rarely ride, though this title as the best has been challenged by C-in2 men's underwear trunks they are extremely comfortable, long lasting and have a contour pouch like no other, so maybe the 2xist trunk has been knocked of the No1: spot. The material is super soft against the skin and they last. A few new styles that have come in with Diesel, CK Calvin Klein and Jockey. They all have adapted the best parts of trunks and use them in their new and ongoing styles. Now of course they have the men's underwear trunk designed with ergonomic pouches and contrast piping on the waistband, they have moved from normal black and white to contoured body shaping fitted trunks with special designer elastic waistbands and no ride leg cuffs. This all comes together so you can find the perfect fitting style for your body.
Made famous in the US they have slowly been on the rise here in Australia. It has been helped by brands such as C-in2 making them fashionable through their fashion designs with plush microfiber waistbands making them look good and fashionable at the same time. Now you can play sport or just wear them out for that extra lift and support. The History of the jockstrap has evolved and the first instances were made by Bike in late 1800's. There are many variations of Jockstraps wide band with cup, wide band without a cup, fashion jock strap, narrow waistband (great for sports), hockey jock and a windproof jock strap, Compression jock, strapless jock and the enhancing. All serve different and very useful applications in all sorts of environments and activities. Of course they have now made men's jockstraps with new material lighter and more supportive, these new styles are from brands such as Magic Silk, Male Power and Jockey.
We are trying to stay with the basic designs so you can wear them underneath your clothing or by themselves. Items such as the contrast singlets from C-in2 and 2xist are an item that guys are now wearing by themselves with a pair of jeans or shorts. The classic square cut tank has been worn around the gym or even as a casual summer singlet it is still proving to be a very popular choice of men's underwear or outerwear year in year out. More styles have now been added to the range, never seen before offerings from HOM with a singlet, a V Neck and a crew neck design made from 100% cotton.
Male swimwear has come of age. The designs now have been influenced by a customer base that is looking for something different. They demand something more than the ordinary and we find that a distinct European feel is becoming popular. Our swimwear range may not be big, but we have some winners in there from some great brands. On the designer side of men's swimwear are brands such as Andrew Christian, Cocksox and 2EROS with totally out there different looks which truly make you an individual out there on the beach.
There is nothing better than lounging around the house in some CK lounge-pants. The light cotton material is perfect for the Australian summer and is designed with a beautifully soft waist band or simple draw string they are easy stylish and comfortable all at the same time. Mitch Dowd give some very light cotton examples of sleepwear and boxers at a very reasonable price, their sleepwear and men's underwear is moving to have a colourful flavour. We have seen a trend for the modern Australian man to embrace the robes that we have stocked. The plush Calvin Klein Terry Robe is very popular and is an example of how tastes are changing in Australia. CK also have now just released a range of micro modal sleepwear, now this is the luxurous end of the market in loungewear and is the most comfortable wearing.
Now this is where the men's underwear industry is leaping an bounding ahead there are now new brands coming on the market with brilliant features and designs helping you shape everything from your bottom though to your stomach, posture, lower and upper back along with controlling your tummy and love handles. Guys now have a choice of briefs and trunks that will lift and push your package while holding your bottom in place. Not only are the new brands getting into the category, but existing brands are happy to branch out from the norm and are also adding similar exciting products to their existing line ups. There are the old favourites like the Cin2 sling brief and trunk that hold your package with an elastic band that is inbuilt to the underwear and there is the Andrew Christian Shock Jocks that have a parcel package for your goods that lifts and holds your goods. Also there is the butt lift trunk from Andrew Christian which is also similar to the Form products from 2xist which conventionally were for the fashion minded but even 2xist men's underwear is now offering some pretty cool new styles. These take it a step further and have a band that surround the stomach which holds the tummy and love handles gently giving a supported slim look and feel.
Now these guys are an undies institution! They are probably the front-runners in men's underwear design and style apart from the grandfather of them all, Calvin Klein, these guys have been making the essentials series for the past eon and have a cult following for just as long. They are a worldwide seller and have a massive audience here in Australia. The company was founded in 1991 by a future focused man names Gregory Sovell, who left the company some years ago. Pronounced as "to exist", the 2xist company is located in Manhattan NY and produces fashion underwear collections released two times a year. 2xist men's underwear has some classic designs such as the "Square Neck Tank" which really was a leader in the market and many have followed with their own version of this very popular style, then again if you are looking at trend setters there normal standard brief which was the 3120 and now the 1010 which is basically the same item has set the standard in design for a an everyday brief. It is one of the most popular styles of designer underwear on the market today.
How do you pronounce this brand? Well, the official pronunciation is 'To Eros' but many customers are happy to call the brand 'Zeroes'. Eros is the Greek God of lust and love and symbolically, he represents male virility, passion and sex. 2EROS underwear is an Australian brand that has come into the spotlight over the past year, mainly due to their styling with big logo waistbands and strong colour contrasts. They release a new style every 3 to 6 months, which change slightly but still keep the fundamental large waistband with 2eros logo and contrast colour piping. This Australian brand is design by a young guy named Jason Hoeung. He is essentially a designer who started making men's underwear. He has kept the operation small and is growing slowly but has a loyal and ever growing fan base that buy through our website. Below, check out a video featuring some of the 2EROS collection.
Andrew Christian is moving away from the norm in men's underwear there is a brand that stands out in the light. AC have made underwear fashionable with a huge amount of differing styles. They have mesh and sheer fabrics as well as form and cuts that push and lift. They have made it fashionable to have underwear that would have been crazy to even suggest even 5 years ago. The brand was born in 2002 in the US city of LA, mainly because Andrew wanted to create a brand for himself and move away from designing for others. Andrew Christian have made styles popular such as the "Flash Back", "But Lifting" and "Almost Naked", also using material such as bamboo and organic cotton. We at DUGG think that Andrew Christian have captured the young forward thinking male segment of the undies market and will push forward with new progressive designs long into the future.
Bike
Bike underwear has a heritage that spans more than 100 years, protecting and supporting athletes helping performance through their cutting edge technology. They say it all goes back to the year 1874 when the Jockstrap was invented. Their strength is in there authenticity, quality and innovative protective product lines. Pushing the boundaries looking after the NCAA and Little League Baseball, we should feel safe in the fact that the highest quality materials and manufacturing are used to make them arguably the best sports underwear in the world available today. Sporting Goods Business advises that it is seen as one of the best sporting brands in the eyes of the consumer. Coaches and sporting associations mainly in the US recommend or use them for their sporting teams. Bike is moving into the apparel and protective side of sportswear and now offers elbow pads, shoulder pads, gloves and neoprene braces. Bike goods are particularly difficult to find and unfortunately we are not always able to stock this brand - but we do our best.
Bjorn Borg Underwear has become extremely popular and has found its way to Australia. Bjorn Borg himself played tennis and was very successful he won 5 consecutive Wimbledon's and had a tennis career that spanned 19 years. He stared at the age of 6 and was on the Swedish Davis Cup team at the age of 15. Most famous of all and to sum up his career and to some extent it defines his tennis was his performances at Wimbledon. Bjorn Borg the company is a Swedish brand that endeavours to make the highest quality underwear available. It has a distinctive European feel that is not found in any other underwear that DUGG Down Under Guys Gear carries. They have developed a clothing line that spans bags, shoes, pants, fragrances and eye wear.
Bonds underwear is really the most iconic Australian fashion brand and the most recognizable underwear brand in OZ. We have a fond love of Bonds bringing us back to being a kid and summer days wearing bonds around the house, a soft spot is held by all DUGG staff for Bonds Underwear. We love the Guy Front Briefs and the Bonds Chesty Singlet is certainly a favourite for all ages for everyone across Australia, part of Bonds mission is that they produce quality progressive garments at a reasonable price point. They strive to be the leading brand in Australian fashion. Bonds men's underwear has recently made some styles that have pushed the brand forward giving them a higher quality and some material blends that stand out, they are much softer and well-made than previous Bonds lines. This transformation and addition to the norm has given Bonds a new lease on life so-to-speak which appeals to the younger generation coming through who demand a little more undies for their money. They have a saying that their "Fashion products are today's cream and tomorrows basics". They have used famous Australians' to promote their fashion lines for the past few years it has been Sarah Murdoch and Pat Rafter. They have been the centrepiece of ad campaigns for some time and very successfully at that. They are owned by Pacific Brands here in Australia which is a very successful clothing distribution company. Pacific Brands also looks after Jockey underwear which DUGG also has in our range.
Calvin Klein Underwear was conceived and created in the early eighties (1982), now it is celebrating its 25 year anniversary. It was really the first designer brand men's underwear readily available on the market and was the benchmark and at the forefront of fashion. Since its inception the iconic brand has been a market leader in its designs, fit, style and materials used. CK's marketing drive has been drive using a mix of the world's top models along with new talented hot young men. One that stands out is the Aussie model Travis Fimmel that was used a few years ago, he was unknown before he appeared promoting CK. Now the new campaign featuring the African born actor and now new model for CK is Djimon Hounsou famous for his role in blood diamond.
Their underwear is synonymous with quality and style taking a staple in any men's wardrobe and making it a designer must have. They use only the highest quality material from cotton through to the softest modal for the sexiest look available this flows through from the packaging to the underwear. They have made the simple men's cotton brief a must have staple of the male underwear collection. They have kept the feel of CK throughout the range and have adapted to various styles along the way over the years, everything from hipster briefs to high cut briefs for active lifestyles. They have the most opulent sleepwear collection from warm robes through to light cotton robes for the coming hot Aussie summer months. They introduced the Logo embossed waistband 1985 which become a trademark look.
Interested in a little sneak peak into Calvin Klein History click here! Below, watch the Calvin Klein Concept Series commercial which was first aired during the Super Bowl in 2013.
Pronounced 'See In To', C-in2 underwear is relatively new in the ranks and has risen at an exponential rate. Looking at where it is sitting in the market it is quite apparent that it is a big threat to the competition; it has a growing fan base that is very loyal customers and we would have to say the fastest growing brand that DUGG is selling. C-in2's colour range is fabulous, it rotates every 6 months from warm winter colours to the light summer colours such as the latest blueberry and lime green items that have just passed. And their new series of C-in2 Bamboo that it released is amazing. The material is light and a composite anti-bacterial design. DUGG is stocking the Vanilla, Rumba and black contrast Bamboo items. One of the most popular undies style series available is the pop colour series they release new colours each six month period with fresh cool colours, in Winter darker warmer colours and in Summer lighter cooler colours, such as light blue and soft greens and of course baby pink. These colour series are very popular and have made C-in2 very popular.
You will find a wide range from Jockstraps to sling support hipsters which are unique and have a distinct C-in2 flavour. The underwear is known for quality and the smooth comfortable waistband is one of the main features that DUGG members constantly provide feedback on, saying that it makes the underwear a pleasure to wear. Below, watch the C-IN2 campaign video titled 'A Week In The Life' featuring Mike Stalker and shot by Rick Day.
Cocksox is an Australian brand that has introduces us to the minimal or super minimal look with a brief style that literally shows everything off - there is nothing to hide in these undies. They have a pouch at the front that shows your assets off without annoy support or lift the pouch area is a sleek little pocket that leads your assets down and out so they are seen. No large thick waistbands here as they would not fit with their minimal look, it is a little break from the normal men's underwear trend that has been evolving over the past few years. They have mesh materials along with Lycra and Spandex, so they have an interesting combination of sleek smooth material with a small minimal cut design means these undies are not for everyone. In saying that they have a huge following and a loyal customer base who say time and again how comfortable and sexy they are. Enhancing underwear for a guy who wants something a little more, or less in this case. They are quite unique in their cut - very minimal and perfect for a guy who wants to get it out there.
Diesel men's underwear is probably one of the most famous designer brands in Australia today. Born of Italian heritage the brand has a fun young edge with a distinct flavourful in their design, often using prints such as pictures and elements like splashes of paint, they are often colourful and bright and most of all unique. Diesel has had a successful line of trunks and briefs called the fresh and bright series that has plain coloured underwear with contrast highlight trim, they are made up of every imaginable colour available from pink to blue, orange to green they have been extremely popular and have been selling very well. We also have been very impressed by Diesel's new range of sleepwear which has rich colours along with soft waistbands and cool soft cotton construction. Diesel men's underwear is also including textured prints to the range they have several styles that are constructed with patches sewn on, there is one style that has metal studs stuck on the waistband, very cool idea and the look is just fabulous!
Equmen Shapewear and form-wear for men, this is a relatively new area of garment that was previously only worn by women, but a few clever companies have come out with the compression wear for men. Spanx, Equmen and to some extent the brands such as Under Amour even though they leaning towards the sporting side they have crossed the lone of cool and pushed Equmen and Spanx along with them. Wearing compression gear has become a smart and fashionable thing; modern guys are now blessed with support and control. Equmen was born at the fashion end with a helix technology that keeps you fitted tight and holds your love handles and tummy in will offering support and comfort, they have men's underwear, singlets and T-shirts that can be worn casually or to work for everyday wear. They are cool and comfortable while providing just enough support to help with posture and help relieve back pain. Equmen have unfortunately decided to close up business after the untimely and unfortunate death of the company's founder in 2014. Once our stock sells out, we won't be able to get any more unfortunately. Check out the video below showing just how effective these garments really are!


Hanes Underwear is the staple underwear and possibly fighting for first place with Jockey for many men's everyday basics. From a beginning that was founded in 1909 the company has grown and is now even made and distributed from Asia under the Hanes Brands company, which of course for us here in Australia is great. Hanes make a huge range of Men's and Women's underwear and casual clothing. We can now look forward to this great value and excellent quality brand being freely available. Hanes has some staple underwear styles in their collection, this includes the famous Beefy T, the T-Shirt that launched the basic plain T as a cheap simple everyday wear, but also made this acceptable to wear.
HOM is quality designer underwear and they use only the finest materials and their unique designs have ensured that no other come close. They are made in France and have a huge following around the world not the least here in Australia. The loyal and ever growing fan base is clearly evident. They have a fabulous fashion range that has just been released in Australia and again it will no doubt be very popular. The HOM underwear brand is owned by Triumph International and is one of the largest underwear manufacturers in the world. They have targeted the active professional male with a range covering him from the bedroom through to sports designs. The inception was in 1968 and it was the first brand to introduce the pouch for comfort and aesthetics. In the 70's HOM dared to be different and introduced a transparent mini with a cotton pouch it was extremely successful and the trend carries through to the fashion lines of today. In the 90's HOM introduced their sporting range along with the world famous HO1 series, with a unique contoured sock range that had shaped socks that were designed for left and right feet for extra comfort. Just another innovative design concept that shows why they are leaders in functional and form. Now we are in 2007 and HOM has pushed the bounds through the 00's with lingerie for men. DUGG will endeavour to stock a large and wide spread collection of HOM designs to deliver for our new and existing members, however this brand is difficult for us to import into Australia and stock can often become unavailable unfortunately.
Jockey underwear is now available at Down Under Guys Gear this is a great range of men's underwear at a very reasonable price point. They are very high quality underwear and are made to last. With the latest designs being very progressive they are designed for a body hugging fit for use every day wear. Jockey is one of the oldest underwear brand sin the world and have been making underwear since for over 130 years, so it is safe to say they have a lot of experience in making men's underwear. Check out the range now and keep an eye out for the active cool brief which is made from CoolMax material. There slogan is "to satisfy the human need for comfort". Jockey are a private company the base is located in the Kenosha Wisconsin. They employ over 5000 people worldwide and here in Australia they are controlled by Pacific Brands which also control Bonds. The founder of Jockey underwear is Samuel T. Cooper he did so in 1876 he was a retired minister. He started very small, the story goes; customers could trust him and learned that his product was superior, from there it has grown. Their commitment to customers are the hallmark of Jockey which remains today. We have added the Jockey range to DUGG.com.au and will expand it over time to make the largest selection of Jockey men's underwear available across Australia.
Mitch Dowd men's underwear is a mix of easy to wear light hearted licensed character and generic boxer shorts, briefs hipsters and singlets. It was created in 1987 by the artist Mitch Dowd he was trying to finance his latest art exhibition and was selling underwear along the streets in the city of Melbourne in Australia. Within a week he had sold 150 pairs and soon after the two largest department stores in Australia, David Jones and Grace Bros picked up the line and ordered 5000 pairs. In 1993 Mitch's brother Jason joined the business, Jason looking after the running of the business which allowed Mitch to concentrate on the artistic side and the business grew exponentially. In 2005 the ANZ bank invested in part in Mitch Dowd allowing the expansion in the US and UK. The involvement of shareholders has also had the involvement of sourcing from Bangladesh and Thailand beyond the original China. They carry a very popular underwear style for athletes and sports called Performance enhancing underwear, made with CoolMax material, long lasting and cool to wear.
Mojo
Mojo Underwear is Australian owned and made. The underwear is a basic range of men's briefs, hipsters, trunks, singlets and they have a plain T-Shirt as well. Mojo underwear is located in Sydney and has been around since 2005 and have just launched their new range. They have a simple aim to make the world most comfortable stylish underwear for the everyday guy. Every man knows how annoying it can be to be wearing the wrong underwear. However, with the very limited brands that are available today, it seems that comfortable underwear just does not exist. Everyone is either following the hype of contoured and sexy underwear or is wearing regular underwear. With Mojo Underwear, it is a completely different story.
The story behind the creation of the brand really is a funny one. All it took was one plumber sweating his crown jewels away to make the brand. According to Adam Rakowski, it was a really hot day when he realized that there was no high quality, comfortable and affordable underwear available. The real problem was that there was a real shortage of decent underwear. What made this worse is that there was very little underwear that was designed for the Australian climate. So an average plumber was off to create his own line of underwear; one that had a designer look and an Australian feel to it. After a very long period of trial and error, Mojo was created. Mojo has a very decent line of boxers, briefs and trunk (short and long). All of their products are available in four different and vivid colours. These colours include Stark White, Vibrant Blue, Smokey Grey and Jet Black. The team at Mojo has a very stern belief that their underwear is exceptionally comfortable and looks great that you will want to buy more. The truth is that it is such. They guarantee that you will not find more comfortable underwear anywhere.
In fact, if you aren't happy with their underwear, they will refund it without asking any questions within 14 days. This risk-free buying is a great way to entice buyers as they know they have nothing to lose. All you have to do is buy one of their products, try it and if you don't like it, you can return it hassle-free. With such a guarantee it is hard to see why you would not want to buy them. With so many guarantees, it's hard to not be impressed. What makes everything that much better is the fact that the brand is 100% owned, made and operated in Australia. This helps keep the revenue inside the land down under, stimulates the Australian economy and opens up new jobs for all young and prospective Australians.
The 100% Australian owned company has a decent line of underwear that is exceptionally comfortable and great to look at. Four different and vibrant colours combined with high quality material prove to be a combination that is hard to match. With a 100% money-back guarantee (without asking any question), who would not want to buy a pair.
Obviously Underwear have changed the way men see underwear. From a run of the mill uncomfortable drab looking briefs and hipsters to a revolutionary, sexy comfortable must have. They have taken the original underwear and redesigned it to fit the male physique. Obviously's soft material along with the comfort pouch that allows your package to sit without moving around. This design minimises the chafing and being squashed. Obviously is a uniquely Australian brand and based in Queensland, probably and influence in making underwear that is perfect for the male with an active lifestyle. Obviously Underwear was established in March 2007 and has been growing fast ever since they started with a brief and a boxer brief and are moving towards G-strings, boxers, socks and singlets. They have a very strong social and environmental responsibility which fits perfectly with DUGG's company outlook and views, supporting prostate cancer and using materials that minimise harm on the environment.
Obviously underwear is a new Australian designed and made brand. They have built a brand based around making the world most comfortable underwear without compromising a beautiful sexy look. The development has created a unique pouch for men that will hold you in place without your package sitting in the wrong place. We all know how annoying and uncomfortable it is when you're sitting in the wrong place. Obviously underwear pride themselves on the quality and materials used they have a strong belief in being organic and environmentally friendly, they are made from a wood fibre blend so that they breath and last. Better still they support a cause that we believe in greatly supporting the Prostate Cancer Foundation of Australia.
Congratulations boys for making a progressive forward thinking brand that DUGG is happy to support.
Oroton underwear has become a very strong brand in Australia since its inception in 1938 when it began trading as Boyd Lane and Co they were importers of fine fabrics and materials in the early part of the century to meet the needs of the local fashion industry. They have a distinct famous look that is unmistakable, with classic lines and colours with small pinstripes through to embossed waistbands. Their Lycra/Cotton trunk and brief have a see through waist band that has been a design feature unique and ongoing in the underwear they have brought out over the past few seasons. Keeping with their traditional lines and "O" in all there fashion, having a distinct nature while staying progressive is their aim. The company itself has saying "staying ours" it is synonymous with their thinking. They have introduced a whole range of colour and pattern underwear this season with a professional and sophisticated look.
Australian sports brand teamm8 has built a name for themselves over the years. They have a home base store located in Surry Hills Sydney with a range of their underwear, swimwear and gym wear. With a small basics range they build a new story each season with bright colour mixes and different cuts of briefs, trunks and boxer briefs.
Under Armour performance underwear has many features to help you during sporting activities, they have a unique moisture transport system that helps keep you dry wicking moisture away from the skin, this helps in temperature regulation keeping you cooler and dry. They have an odour control system that helps stop the build-up of odour caused by microbes. These features are just some of what Under Armour has to offer in men's underwear. They are a designed with a cotton and Elastane blend so they breathe and stretch at the same time. Along with ventilation areas to help disperse heat and keep you cool. This is a brand that is sweeping across the sports scene in Australia.
Van Heusen
Van Heusen underwear is unfortunately no longer available as the company has discontinued their underwear range. We're sorry to disappoint our DUGG customers.